The UK fintech market is experiencing a new wave of innovation. Developments in artificial intelligence and machine learning are giving rise to a new generation of fintech startups. Prop trading houses and hedge funds have been using machine learning techniques for years to beat financial markets. It's interesting to see A.I. making its way into mainstream fintech. Companies are leveraging the technology to make sense of large volumes of data, making financial products and services more accessible for the end user. Two emergent categories in the A.I. fintech space are concierge and regtech. Think of concierge apps like Plum, Cleo and Brolly as virtual financial assistants that can answer questions about your personal finances and insurance cover on demand. Regulatory compliance remains a major challenge for banks. Banks need to comply with divergent and evolving regulations on domestic and international fronts. Financial institutions are under the constant threat of fines and penalties from regulators. Next generation regtech companies like ComplyAdvantage and Behavox have developed A.I. based solutions to manage the heavy regulatory burden. This marks a shift beyond workflow and rules-based solutions and highlights a greater reliance on machine intelligence to stay compliant. The change in the regtech landscape is complemented by changes in the credit risk landscape with companies like Aire and AdviceRobo leveraging A.I to make smarter decisions about who to lend to.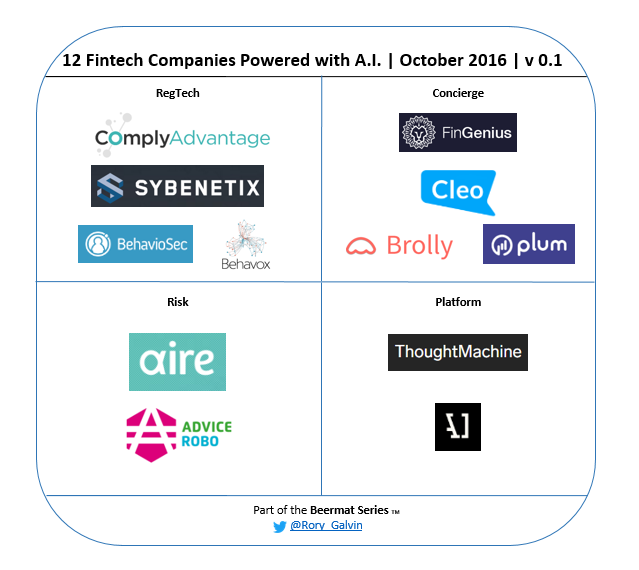 #1 Fingenius
Category: Concierge
http://www.fingenius.com
https://twitter.com/FinGeniusAI
FinGenius allows financial services companies to answer questions from customers and employees on demand. The concierge solution is an alternative to help desks and call centres.
#2 Aire
Category: Credit Risk
http://www.aire.io
https://twitter.com/airescore
Aire is taking a fresh look at credit risk and helps give people a new credit score to qualify them for financial products. Aire develops credit scores by combing information from alternative and traditional sources, leveraging artificial intelligence techniques as a means to validate the data.
#3 Cleo
Category: Concierge
http://www.meetcleo.com
https://twitter.com/meet_cleo
Cleo is a banking concierge app that uses state-of-the-art machine learning algorithms and a chat interface. Cleo provides the user with a comprehensive understanding of their finances. Users can ask Cleo questions using SMS or Facebook Messenger to get instant answers straight to their phone.
#4 Aesthetic Integration
Category: Platform
https://www.imandra.ai
https://twitter.com/verifiedbyai
A platform for formal verification of algorithms. Imandra has a regulatory angle and claims to revolutionise the safety, stability and transparency of global financial markets.
#5 ComplyAdvantage
Category: Regtech
https://complyadvantage.com
https://twitter.com/complyadvantage
ComplyAdvantage uses machine learning, big data techniques and a unique risk-based approach to help a wide range of insurance companies and financial institutions to rethink how they fight financial crime and comply with regulations including sanctions, AML and CTF.
#6 Sybenetix
Category: Regtech
http://sybenetix.com
https://twitter.com/sybenetix
Sybenetix is an enterprise behavioural analytics company working with financial institutions to improve investment skill and conduct management
#7 Behaviosec
Category: Regtech
https://www.behaviosec.com
https://twitter.com/BehavioSec
With its origins in the Arctic circle, BehavioSec has created a means to authenticate customers based on the way they interact with an app preventing fraud and protecting customers. BehavioSec uses machine learning techniques to authenticate users.
#8 AdviceRobo
Category: Credit Risk
http://www.advicerobo.com
https://twitter.com/AdviceRobo_
AdviceRobo is a next generation credit scoring company applying big data and machine learning technology to support lending to millennials and SME's.
#9 Brolly
Category: Concierge
https://www.heybrolly.com
https://twitter.com/heybrolly
A.I. driven personal insurance concierge. Brolly tells users if they are under, over or not insured at all. It will even price compare insurance.
#10 ThoughtMachine
Category: Platform
https://www.thoughtmachine.net
ThoughtMachine is working on a revolutionary technology to bring Machine Learning and Big Data to the world of personal finance - all of this while delivering a beautiful intuitive user experience.
#11 Behavox
Category: Regtech
https://behavox.com
https://twitter.com/Behavox
Think Regtech 2.0. Behavox is an enterprise compliance software company providing holistic employee surveillance solutions. Behavox provides an effective and scalable solution that delivers compliance with regulations such as Dodd-Frank, MAR & MIFID II.
#12 Plum
Category: Concierge
https://withplum.com
https://twitter.com/withplum
Plum is a personal savings assistant. The concierge app monitors daily spending and cleverly puts money aside that you won't need.